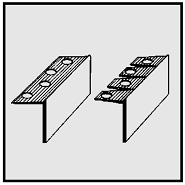 The ST Series is installed at the drywall edge.  An easy way to close off raw edges when butting up to other dissimilar materials.  Used also to create a layered look when multiple layers of drywall are stacked.  The STF Series is used in a similar fashion around curved dissimilar materials.
There are multiple options that are available for this series which would include intersections, curved conditions and specialty finishes.
Sizes ranging from 1/2″ to 2″wide.
Unlimited Painted Options